One of the tasks that tends to be problematic is the OD finishing of tube material. From hand finishing to placing tubes in a lathe there are all manner of ways people try to work with tubes. In reality there is a much more simple and fast way to do it that it seems many are not aware of. There is the centerless style of machine most have seen where the tube spins while being processed. Many are not fans of these due to the risks of the spinning tube. If there is a bend to the material the tube can flail around and get out of control. They also tend to be aggressive in a general sense as far as material removal. If you have nasty rust covered material with severe pits they would be the best option.
But when working with aluminum or any other material where an even finish is the main need there are better ways. A planetary style machine holds the material and it will not spin removing the main issue with a centerless style machine. The planetary style machine works with free belt rather than a contact roller so it is less aggressive on the material allowing finishing with out stock removal. This lets you maintain your wall thickness and get the surface finish you need.
The image below shows the belt orientation in a planetary machine.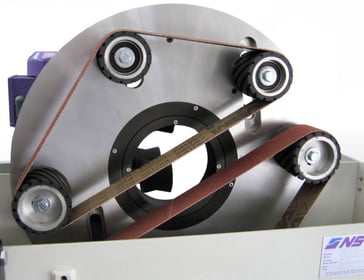 The standard auto feed units control the tube passing through the machine keeping the speed and finish constant. This allows the entire length of even very long tubes to have an even finish.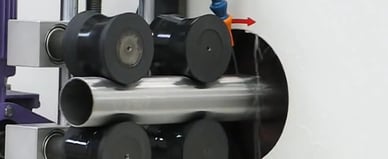 Video example of planetary machine
You can fit just about any grit or type of sanding belt so there is no set finish for the machine. The finish is most dictated by the belts you use. From 36 grit to super fine scotch brite you can run any belts you need to. The machine has variable speed controls so coupled with the vast variety of belts the sky is the limit on finishes possible.
From hand rails to chassis parts the planetary style machines can be the answer to tube finishing. They take a task that can be difficult and make it very easy and much safer than other options. If you need help with a tube finishing issue or have questions as always feel free to reach out as we are happy to help.