As a change of pace I thought I would share an installation that started this week.
I can not give any company details as they are a government contractor and need to keep things private. In general they are working with cast parts that are machined and then need to be sanded and mirror polished. The need was to produce 100,000 sanded and polished parts in one shift per day each year.
The machine work left behind some areas that needed a fair amount of tool mark removal so we settled on 4 abrasive belts. This would be divided between 2 robots to increase speed and provide some redundancy as well as flexibility.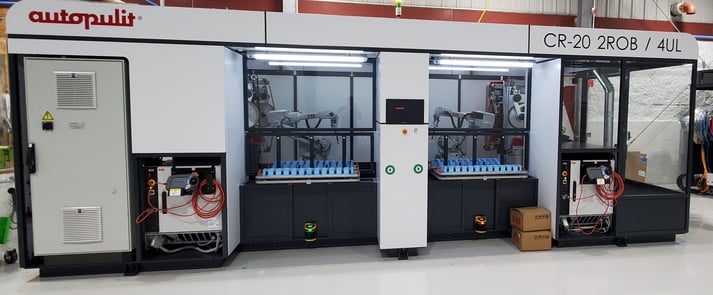 To improve speed and make the process easier for the operator we moved to a magazine setup where many parts are loaded and unloaded at a time. The robot will take one part at a time from the raw part magazine and when done with its 2 steps hand it off to the second robot. The second robot then performs its 2 steps then places the finished part into the finished magazine.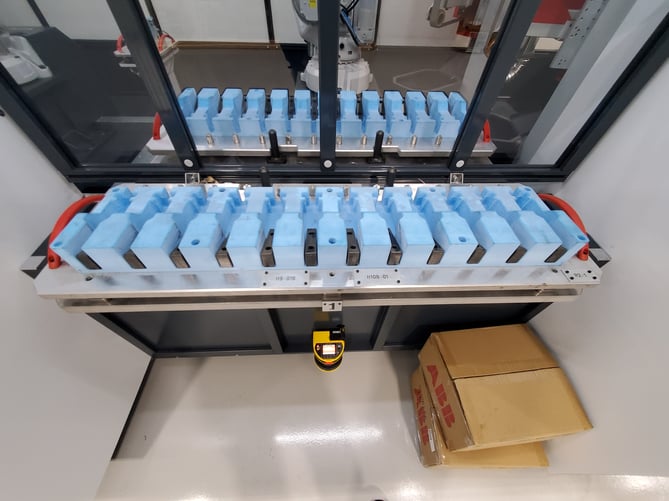 With the magazine setup the operator can load and unload while the machine works. It also allows for other magazines and programs to process a wider variety of parts. Once the second robot fills the finished parts magazine it is rotated out and an empty one rotates in. This again keeps the system running while also keeping the operator outside. The assembly is complete and full training for operators and more advanced users will start soon. Teaching staff all aspects is just part of what we do. The end goal is for the machines owner to be fully autonomous and able to make any needed changes at will. Being equipped with a full tool set and the knowledge to use it makes for a much better experience long term.
At the end of the room there is a 6 station CNC machine also going in to take care of the polishing aspects. This unit will keep pace with the robots and can produce near jewelry quality finishes on complex parts very quickly. There will be more on that machine another time as it is currently being assembled.
This application was about speed, quality and reducing manual work. With a small army of staff hand sanding and polishing there was little consistency part to part. The volumes were not being reached and daily output was a complete variable with human resource issues seeming to never end. With these units in place 2 people will produce the volume of 10 people and be consistent part to part while improving quality. From initial concept to employee training the entire process is as simple and easy as possible. The right answers for the questions you face and no BS.
Joe Amick joe@ammachinerysales.com