Over the past few weeks, we've been discussing how metal deburring machines from Loewer can help you reduce your cost of operation.
In this week's blog post, we're going to discuss the cost of graining sheet metal vs. the cost of buying – and then deburring – prefinished metal.
Let's start by looking at what it takes to deburr and finish metal with a quality grain. Typically, you would need a wide belt machine with four heads:
The first head would need to have an 80 or 120 grit belt to cut through the shin of the material.
The second head would require a 180 or 220 grit belt.
The third and fourth heads would need to have Scotch-Brite brushes running in opposite directions so that you can deburr the leading and trailing edge as well as leaving an aesthetically pleasing finish.
This kind of machine will cost you somewhere between $200,000 and $250,000. And there are things about this sort of machine that may not become apparent until it's on your shop floor.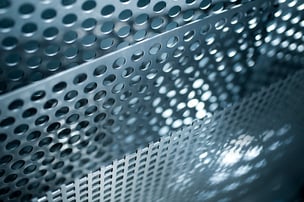 For example, if your sheet has holes – and most do – your abrasives will wind up with an uneven wear. After running several sheets through the machine, you will start to notice a shadow near holes and slots. This is what's known as doving.
You will need to redress the belts and the Scotch-Brite brushes to fix this problem. As you can see, this will cut into the life of your abrasives, and add to your operational costs.
You might argue that you can grain smaller pieces using a belt-brush combination machine, and you'd be right. However, you should consider the number of times you would need to run the part through the machine to attain the same outcome: The answer is four times.
And those belts don't last long. At most you'll get four hours of use out of them, and spend between $75 and $100 on each belt.
In the end, it doesn't pay for you to spend $250,000 to do the work a mill could do. You would need to do 31 sheets each day to justify the cost.
We would suggest buying an actual metal deburring machine and working with prefinished metal. The up-front costs for a deburring machine are lower than a traditional wide belt machine, as are the cost of operations and materials.
Plus, by purchasing pre-finished metal, your guaranteed a consistent finish on every workpiece. When graining a mill finish in a wide belt machine - you will never get a consistent finish.
To learn more about Loewer metal deburring machines, contact AM Machinery Sales. Our team looks forward to helping provide you with the right machinery for your applications, at the right cost.